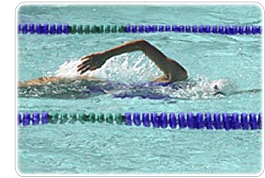 The key to faster swimming is understanding that each time we enter the water, we bring with us all our human traits, habits and instincts. They serve us well on land, but in the water they lead to some extraordinarily inefficient and exhausting movements. This is called Human Swimming. Fishlike Swimming, by contrast, is fast, effortless, and smart. This is the kind of swimmer you want to be. But in order to swim like a fish, you need to shed your human instincts and learn to do some things that will feel counter-intuitive at first, but, with practice, will become quite natural and will make you as relaxed and at home in the water as a fish. And you'll be swimming faster, too, with much less effort. 

Philosophy of Total Immersion™  
  
Transform Your Technique
Traditional instruction focuses on pulling, kicking and endless laps. TI teaches you to swim with the effortless grace of fish by becoming one with the water. TI emphasizes the same patient precision and refinement taught by martial arts masters. We start with simple skills and movements and progress by small, easily-mastered steps. Our students thrive on the attention to detail and the logical sequence of progressive skills.

Transform Your Experience
Swimmers come to us with the goal of swimming faster. They quickly learn that it's far more beneficial and satisfying to swim with grace, flow, and economy…and that speed will surely follow when they master ease. You'll feel the difference from your very first lap of intelligent, purposeful TI practice and get more satisfaction from every lap that follows.

Transform Yourself
TI, alone among all swimming-improvement programs, teaches swimming as a practice — in the same mindful spirit as yoga or tai chi. Our students tell us that by swimming the TI way they sharpen the mind-body connection and achieve heightened self-awareness and self-mastery, leading to greater physical and mental well-being.


The Founder of Total Immersion™ – Terry Laughlin


After graduating from St. John's University in 1972, Terry Laughlin had two job offers: night maintenance work at an elementary school for $6400 per year or head swim coach at the U.S. Merchant Marine Academy for $1200. He chose love over money and has never regretted it.
"My first year at Kings Point, I was only 21, the youngest head coach in the NCAA. I felt blessed to have discovered, so early in life, work for which I had a real love and for which I appeared to possess better instincts than I had enjoyed as an athlete. My main motivation as a coach was to find the answer to what had puzzled me as a swimmer — why I had never been able to rise above an average level of performance, despite a willingness to sacrifice and work extremely hard, and why some swimmers were much faster than me, despite always making it look easy.
From Day One, I had a suspicion that the answer was to be found more in the aesthetics of swimming, than in "how much and how hard." Good swimmers simply looked better and I had the intuition that teaching less-gifted swimmers to look that way might succeed where sheer hard work had failed me. That approach proved more successful than I would have dared to hope it would. In my first season, I earned recognition as Coach of the Year in our league and knew I had found something I could do with distinction and real enthusiasm. Over the next 16 years, my athletes won 14 individual and relay titles at NCAA Division III, National YMCA, and U.S. Junior National Championships and every team I coached performed far better than they had before. I also qualified swimmers for Olympic Trials in 1980, 1984 and 1988 and produced a number of world-ranked swimmers.
Following Olympic Trials in 1988, I stopped coaching age group swimming, partly from swim-parent-fatigue and partly to find out what else I could do well. For the next four years I earned my living primarily as a writer. But because I loved teaching, I decided to keep my hand in swimming by offering camps for Masters swimmers the next summer at Colgate University in Hamilton NY. I adopted the name Total Immersion from some popular foreign language courses of the time, thinking it ideally suited to swimming."
 
Click here to read more about how the TI approach developed and about TI Today from the TI international website